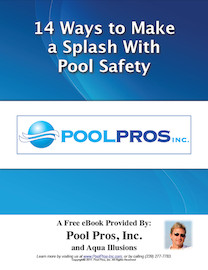 As a kid, how many times have you been told by your parents, "WALK, DON'T RUN!"? Do you find yourself yelling at your children to do the same? Funny how karma works like that! But you're only telling your kids to walk because you want to protect valuable household items and because you're concerned for their safety, right?
Pool Pros, Inc. believes that your child's safety is very important not only in your house but also around your pool. This is what prompted us to write 14 Ways to Make a Splash With Pool Safety. Although you may now how to stay safe around your pool, your kids and your neighbor's kids are still learning. This is a great resource for kids and a refresher for adults. In this FREE eBook, you'll learn about:
Safely storing pool chemicals
Diving safety
Finding places to take CPR courses
Keeping bug repellants out of the pool
…and 10 additional tips.